Hoys began helping people travel to Mt Hotham over 80 years ago.
Most people travelling by car to Mt Hotham and Dinner Plain go through Harrietville. A popular way is to drive to Harrietville, leave your car in Hoys security car park, and catch a coach or taxi up the mountain.
Hoys Harrietville Ski Centre is a convenient place to stop, park and take transport up the mountain. There are advantages in letting someone else drive you such as no snow driving/chain worries and no on mountain snow parking. Taking the bus can be a very cost effective way to get on mountain.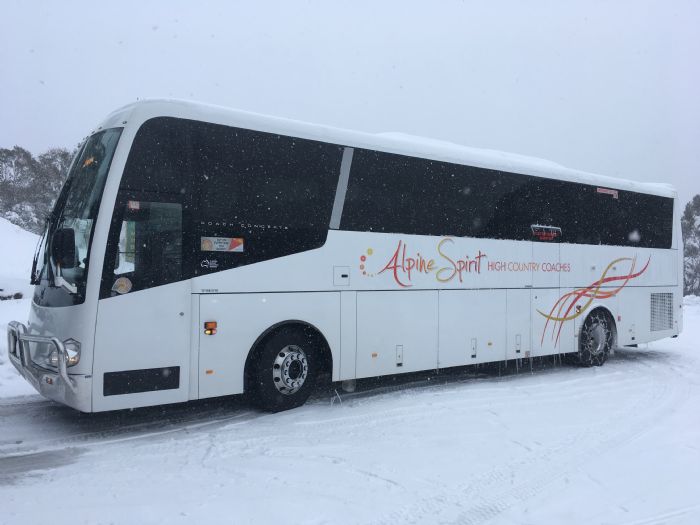 Catching a taxi offers the convenience of you setting your travel times, getting an experienced driver and appropriate vehicle to make your mountain travel hassle free. The drivers will get you as close to your accommodation as possible and we can advise you on how to organize the "Snow Tow" services for your luggage to your door. Passenger vehicles are available for carrying 4, 6, 11, 21 or a full coach. Hoys Booking Service can advise you on all your options for taxis to pick you up from Melbourne, Albury, Harrietville, Dinner Plain – wherever and whenever you need.
Hoys Harrietville Ski Centre offers security carparking & a full ski hire outlet. If requiring snow clothing hire – you can get your gear from here so you'll arrive on mountain appropriately dressed for snow conditions.
We are Mt Hotham's snow chain experts and offer an amazing service of a FREE mobile chain fitting service on the way up the mountain for Hoys chain customers.
The Snowball Express has departed from Hoys Harrietville for many years. The Alps Link coach service departs from the Pioneer Park – conveniently directly across the road from Hoys Harrietville.
Hoys Booking service can arrange private charters for groups to get to Mt Hotham. We can help you organise your group's whole trip – accommodation, coach, resort entry and lift & lesson advice and hire.
For all bus and taxi bookings or information on chains, resort entry, and security car parking off mountain
PARK' n 'Ride – OFF MOUNTAIN CAR PARKING AT HARRIETVILLE
For a variety of reasons, many people prefer not to take their own car up into the snow, but still want to get to the snow conveniently and in comfort.
Hoys Harrietville has the answer – drive your car to Harrietville, and park it in our Security Car Park. You can then take the coach or taxi to the snowfields. EMAIL Hoys with your dates & passenger numbers & we'll send you all your travel options.
Security Parking
| No. of nights | 1 | 2 | 3 | 4 | 5 | 6 | 7 |
| --- | --- | --- | --- | --- | --- | --- | --- |
| Security Car Parking | 20 | 30 | 40 | 50 | 60 | 70 | 80 |
If you are flying into Melbourne Airport and need to hire a car, 4WD, van or even a coaster bus, we recommend contacting Turnbulls Hire & Drive. They offer VERY competitive rates including snow insurance and you can even pick & drop off from Tullamarine.