When traveling to the snow, it is a legal requirement to carry chains.
Chains must be carried in your car before commencing travel on the Hotham road from Harrietville or Omeo. We use only quality Diamond chains, available from Hoys Harrietville A-Frame Ski Centre & Hoys Omeo Ski Shop. Our Omeo location is the new ski shop (opened in 2022) on the right hand side as you drive down the Main St, coming from Gippsland – opposite the only supermarket (Foodworks) in Omeo. Hoys Omeo Ski Shop is located at 150 Day Ave (Main St/Great Alpine Road) and is only open Fridays through to Mondays.  Due to current regulations there is NO roadside chain hire available on the Great Alpine road between Omeo & Harrietville, only fitting service.
Hoys have been hiring chains to visitors to Mt Hotham for over 60 years
Hoys are the indisputable Mt Hotham snow chain experts. We have been operating the mobile chain service for over 35 years, helping guests get to their holiday destination safely with the least amount of hassle.
When you hire Hoys chains in Harrietville, staff rigorously test your hired chains to make sure they fit your tyres and are suitable to your individual car. We then fit your chains free of charge at the Hoys mobile chain fitting depot. This can save you time and heartache ensuring your holiday starts on the right footing! The fitting services operates between Harrietville and the Mt Hotham Village entrance – not on the Dinner Plain & Omeo side.
Hoys offer both chain hire and retail chains.
Check…
Your car maintenance booklet/ owners manual to ensure that the use of snow chains/"full traction devices" is approved for your vehicle make & model with your current tyres.
Look for…
The dimensions of the drive wheels of your vehicle exactly:
the first measurement is width (e.g. 215)
the second is tyre shoulder expressed in percentage of width (e.g. 65)
the third is rim diameter expressed in inches (e.g. 16)
Contact us with these dimensions to book your chains
Chain hire is not available from Hoys on mountain shops. You must arrive with chains already on or in your vehicle. Hoys on mountain shops may be able to help in an emergency situation, only if your car CAN fit chains & additional fees apply. Best come visit us before you go up the mountain – to try to avoid any trouble.
Trust in Experience
Our extensive experience with chain fitting allows us to choose the most appropriate chains for each vehicle, and allows us to provide unrivalled advice – if we believe your car to be unsuitable to travel the Hotham Road we will tell you so, and advise you to take the coach or taxi or bring an alternate vehicle. We can also provide security parking for your vehicle in such cases.
Our operation also allows us to provide you with the most up-to-date road conditions which change frequently and surprisingly quickly.
Hoys Mt Hotham Snow Chain Service
This is Hoys service to you at our best.
This service operates whenever chains are required to be fitted on the Great Alpine Road between Harrietville and the Mt Hotham Village entrance.
This Mobile Service is located in the designated roadside chain fitting bays of the day between Harrietville and the Mt Hotham Village entrance. Hoys chain fitters will fit Hoys hired chains at NO EXTRA CHARGE to your car when and where chains are needed. Look for our big white vans with Hoys logos and flashing orange lights on the way up the Great Alpine road – or ask at our Harrietville shop when hiring your chains – where are the chain gang going to be?
Most of the time the team are parked on the uphill side of the road – so if you are on your way down – look in each bay on the opposite side of the road please.
Chains should be hired from Hoys in Harrietville and the mobile service operates the following hours:
| | |
| --- | --- |
| Monday-Thursday | 8am to 5.30pm |
| Fridays | 8am to 12 midnight |
| Saturday | 8am to 6pm |
| Sunday | 8am to 7pm |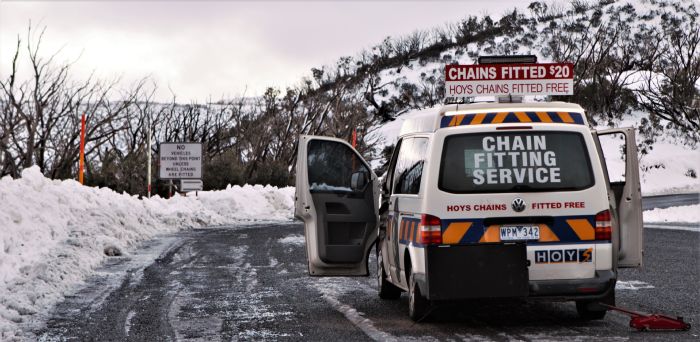 We are the only chain hirer with on mountain back up service. Hoys have been running this service for over 35 years. Of course we have the most up to date road information as our boys are on the road 7 days.
Don't forget it is best to prebook your chains so we can confirm your car is chain compatible to chain fitting. While you are online – may as well prebook your Hoys ski & board rental packages to save you extra $! See our Specials Deals page.
Phone – 03 5759 2589
Chain Hire Prices
Harrietville and Omeo shops only
All chain hire includes free chain fitting & removal by our mobile service (operates on the Harrietville side only)
Own your own chains? $25 to fit/$15 to remove
| No. of Days | 1 | 2 | 3 | 4 or 5 | 6 | 7 |
| --- | --- | --- | --- | --- | --- | --- |
| Cars & 4WDs | 46 | 55 | 70 | 76 | 84 | 86 |
Snow Chains FAQs
Please note: If your vehicle owners manual does not list your tyre size as able to fit diamond pattern chains – we may not be able to rent chains to you. If you fit chains to your car against your vehicles manufacturing specifications – you may void your insurance (and ours!). Please read the information below carefully – then check your tyre size – then check your owners manual. IT IS YOUR RESPONSIBILTY to do these checks before you head off on your snow trip. We would hate for you to arrive in Harrietville or Omeo, only to find you cannot head up the mountain.
The answer is YES. While 4 x 4 vehicles offer superior grip over conventional 2 wheel drive systems, snow chains significantly increase the available traction beyond that offered by even specialised snow tyres. In addition to this, it is the Victorian law when travelling to Mt Hotham ski resort you must carry snow chains. Hoys recommend ALWAYS using chains when going downhill on icy roads.
Front wheel drive – 1 pair of snow chains fitted to front wheels
Rear wheel drive – See FAQ below
4 wheel drive – Ensure 4 wheel drive is engaged/1 pair of snow chains fitted to front wheels if clearance or back if the only option – check your manual for advice & manufacturers specs
All vehicles will benefit from snow chains fitted to all wheels to gain lateral grip, to either reduce understeer on rear wheel drive vehicles or to reduce oversteer on front wheel drive and 4 x 4 vehicles.
With rear wheel drive cars, there are basically two options.
The safer (but more expensive) option would be to run chains all round. This obviously gives consistent grip at both ends of the vehicle, and maximum resilience against harsh conditions.
The alternative is to run chains just on the driven rear wheels. This ensures that the vehicle keeps moving forwards, but leaves you with reduced grip on the front of the vehicle. As a result, the vehicle will have an inherent tendency to understeer. Conventional wisdom says that if a car is going to either under or oversteer, understeer is the safer option, as most competent drivers can easily assess the available grip, and any loss of control can normally be controlled easily by simply removing any throttle and brake that's being applied until steering is regained.
Firstly – check your service book (manual) and see what information is listed about snow chain fitting.
Is your car an AWD or 4WD? Which end of the car should you fit to? We hire a limited range of 'slim fit chains' for vehicles with low clearance. The easiest way to determine if your vehicle has a problem with clearance is to run your fingers around the entire wheel/tyre, if your knuckles clear the suspension, wheel arch and inner wing with ease -then chains can generally be fitted. If this is not possible, we would recommend emailling Hoys for further discussion. Remember your car will sit lower when loaded with holiday luggage and passengers.
Email info@hoysskis.com.au to discuss at length.
Konig K-Summit, Ladder chain, "Spider" chains & Snow Socks are banned from use on the Great Alpine Road Mt Hotham.
All of our Konig snow chains are designed to clear the wheels. However as you can imagine, as the tyre rotates with speed, some chain can slap against your rims. It is advisable to bring some duct tape to cover your rims if you're worried as Hoys takes no responsibility if damage occurs. If you have low profile tyres – it is likely some chain will sit over your rims.
In most cases signs on the approach roads will indicate if, and which vehicles require chains. Unfortunately conditions do change rapidly and if it is snowing heavily and settling on the road you may require to fit them prior to reaching the currently designated area. Feel free to contact us for up to date information.
If parking overnight at Mt Hotham it is advisable to fit chains if there is snow forecast. Again ask our opinion if you are unsure. Fitting chains to a parked car surrounded by snow is can be very difficult and time consuming.
4X4 vehicles are usually exempt from fitting chains. However, Hoys firmly believe these vehicles when travelling down the mountain should wear chains (when 2WDs are required to). In the absence of offroad tyres a 4WD/AWD vehicle has little advantage over 2WD when braking going downhill on icy roads. The majority of accidents on the Hotham road involve 4WD/AWD vehicles travelling downhill without chains.
There are often no signs to indicate when chains should be removed. As you leave the Mt Hotham village (from either side) there are large signs stating when chains are required. When they are not required these signs are closed. Familiarise yourself with these signs and you will know if you need to take them off when leaving the village.  When driving down the road it is not so simple. During opening hours Hoys chain fitters will be operating at the appropriate removal area (Harrietville side only). Otherwise if the bitumen is not covered by snow or ice, and 2WD vehicles are travelling uphill without chains on, you can be confident you do not need chains fitted. It can be dangerous to drive unnecessarily with chains on as your vehicle's handling is affected.
Snowchains wear out very quickly on bitumen. If it is dry they may last only 20km. Whilst we recommend the Dinner Plain bus we understand it may be more cost effective with entry fees to take your car if you are a group. Quite often you will need chains in the morning but not in the afternoon. We can remove your chains for you and then put them on again later if required. Driving on wet bitumen for short distances is not such a problem for chain wear.
When deciding whether to take the bus or drive, be aware that the main carpark at Hotham fills very quickly and you will often have to park at the far end of the village and then take the internal bus to the slopes. In this case taking the DP bus is a much faster and easier access.
There are a few reasons: wrong size, poorly fitted, worn out from driving on dry bitumen and spinning wheels when stopped facing uphill or leaving a carpark.
So the first two issues can be avoided by renting (or purchasing) from us and getting us to fit them (and teaching you how!). Driving on dry bitumen will wear chains out quickly and is to be avoided. If you are stationary facing uphill you must move off gently to avoid spinning wheels. If this is not possible your only options are to push the vehicle or back down the road to flatter ground.
Most chains are broken when people are leaving their carpark. If your vehicle is surrounded by snow you must dig an adequate path out to the road. Pay particular attention to the line your tyres will take (front and back) and remove any buildup left by snowploughs. If you spin your wheels leaving your park you will most likely break your chains. Shovels are available at most accommodation places and can be borrowed from our stores.
Hoys Harrietville stocks a very wide range of chains for sale including Konig Magic self tightening chains, Zip lighter grade chains (not recommended for all vehicles) & Thule/Konig 10mm Slim fit chains. We also sell 4WD V2 Traction chains. Contact Hoys for a quote today.