Hoys recognises that the comfort of your children can be a big factor in the success of your snow trip. We stock the most comfortable boots from Dalbello, Salomon and Burton, and easy to learn skis and snowboards with cool graphics from Atomic, Elan, Nordica, Salomon, Rossignol, Head and Burton. Our new line of pink skis has been particularly popular with young ladies.
We take very seriously comfortably fitting boots and safety releasing ski bindings. You will find our staff pay a lot of attention to ensuring your kids are fitted into the perfect boot.
In addition we offer FREE Helmets hire with Child Ski & Board rental packages – and our helmets are fun colours too!
Hoys continue to help try keep your ski holiday budget incheck.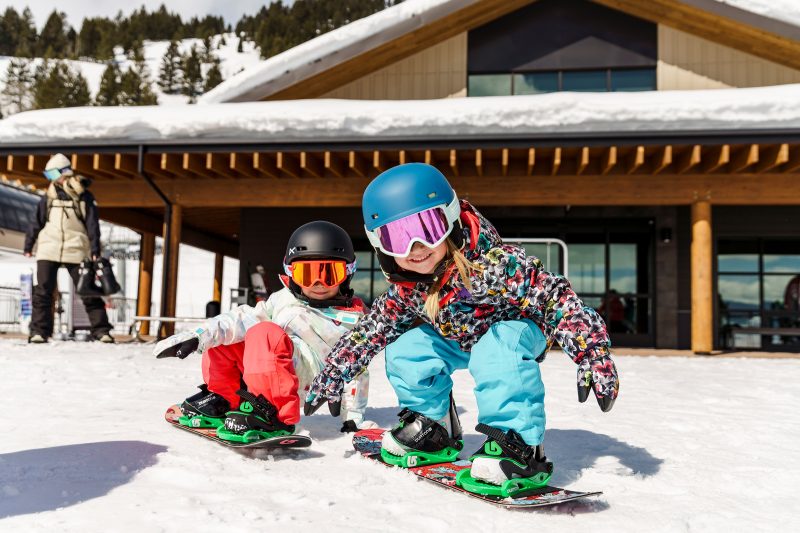 Most people say 3 for skiing and 6 for snowboarding. This is a tricky one and really depends upon how well developed they are physically, emotionally and socially. Physically kids vary considerably in their development in terms of strength and coordination, it really is up to the parent to decide, although Hoys staff have much experience in this field and are willing to offer advice.
The experience they will have often is dependent upon their attitude. If they are cold, scared, car sick or affected by the altitude it is best not to push them until they are ready. It is highly recommended that the first day should not be one of hostile weather: rain, wind, low temperatures…ect.
Social development will determine how well they may interact with professional instructors.
The smallest size ski boots we stock are kids size 7 and snowboard boot size 11; smallest skis 70cm and snowboard 90cm. We also stock plastic ski sets for use in normal snow boots. These are great fun for little kids to play around on snow (and carpet). We rent these at our toboggan rate.
Absolutely! Hoys do not charge for helmets for children when renting skis or snowboards.
Snowboarding is pretty cool to kids but unfortunately many find it harder to learn than skiing. There is little doubt there is a higher propensity for injuries learning to snowboard than ski, especially for kids. There is a lot of evidence that learning to ski a little can make learning to snowboard easier and safer. Hoys offer a $15 ski to board (and vice versa) swap – cheapest swap at Mt Hotham.
Importantly it is highly recommended that the first day on a snowboard should not be on hardpack or icy snow. Often when it is sunny the snow will soften after lunch and this is a great time to swap.
We stock performance Skis for children. Best to contact Hoys if you know what length skis your kids need & we'll tell you what your options are & how to book them.
Until a child can parallel turn Hoys do not recommend using ski poles. There are several reasons for this:
too many pieces of equipment for them to carry
too many items to coordinate whilst learning to ski
Ski School do not teach with them until they are intermediate level skiers
often children's poles get lost when they are not used
they can be inconvenient for parents who may have to store them.
You are welcome to collect poles anytime you, or an instructor feel your child is ready.