Why not do something different on your days away from the downhill slopes and change up your sport?
Hire any ski or board package from any Hoys shops and you can switch to XC skis or snowshoes. Swap as many times as you like for only $15 PER SWAP.
There are many reasons people choose to cross country (XC) ski whilst on holiday at Mt Hotham: To get a bit of exercise, to explore the beautiful alpine environment, to get away from the hustle and bustle of the resort, or just to save a few bucks on lift passes.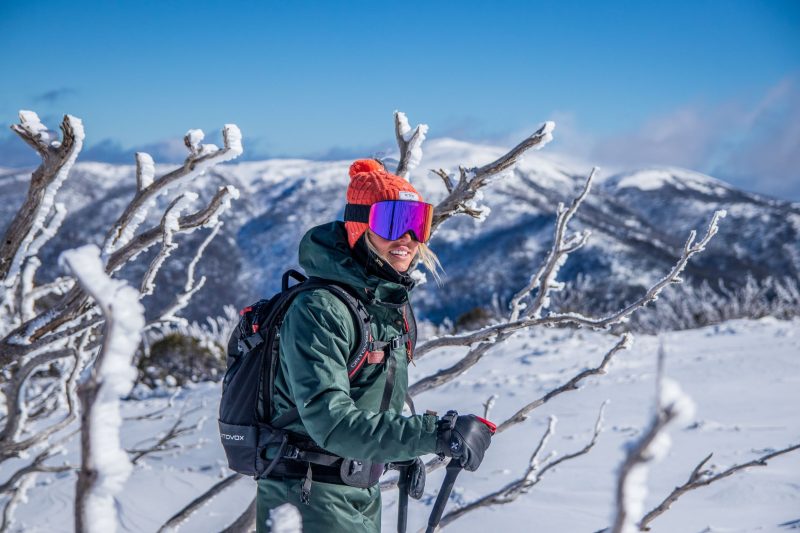 Hoys stock a very modern fleet of metal and non-metal edged skis from the very best brands, Fischer, Rossignol, Madshus and Alpina. We use the NNN BC binding and Alpina 1550 boots. This is the best possible equipment whether you are just starting out on the groomed trails, or getting a bit of private backcountry touring in.
XC skiing is as easy or challenging as you want it to be. Beginner lessons are available through Traverse Hotham (see below). There are numerous trails (both groomed and ungroomed) offering varying degrees of challenges at both Mt Hotham and Dinner Plain. You can catch the free village bus to Wire Plain or just plod around the lodge precinct. A popular challenge is to ski from Hotham to Dinner Plain (13km), have lunch there and catch the Dinner Plain bus back to Hotham. The majority of the journey is slightly downhill and takes about 3 hours.
If the Downhill lifted area is particularly windy, often the XC trails are quite sheltered and an otherwise wasted day indoors can be enjoyed amongst the snowgums. Remember if you have hired a ski or board package through Hoys – you can swap to XC or snowshoes for only $15 per swap.
Cross Country gear available for hire at Hoys Dinner Plain & Hoys @ Jack Frost shops only
Alpine Nature Experience
This is a unique evening snowshoe tour winding your way through the snowgums to a hidden Tipi on the High Plains. There you'll enjoy drinks by an open fire, a real French fondue experience and 3 course dinner. There is also an option to stay overnight in wonderful romantic snowdomes & skidoo out the next morning. Why not pick up your snowshoes earlier in the day from Hoys to have a go or keep your snowshoes for the next day to go explore the local trails & HIgh Country Huts.
Contact Jean-Francois here 
SORRY NOT OPERATING DURING WINTER 2022
TRAVERSE HOTHAM
Traverse Hotham offer introductory cross country (XC) ski lessons as well as sunset snowshoeing experiences Wednesday & Saturdays at Mt Hotham & Mondays at Dinner Plain. Private XC ski lessons, tours & snowshoeing adventures by arrangement at other times.
Contact Glen here to organise this today.
It's pretty easy although you will probably fall down a few times. The trick is to push with one pole whilst thrusting your opposite leg forward. Fairly soon you'll find a natural rhythm which will enable you to cover ground quite quickly – typically you will slide a few feet for each "step" you take.
Metal edged skis are easier to turn and stop, especially if the snow is icy. When venturing off the groomed trails metal edged skis make it easier to cut your own track. The downside is that the skis are heavier and have more friction with the snow meaning you will have to exert a little more energy to move forward. We find that when starting out XC skiing, metal edged skis are easier.
Yes. At our Dinner Plain and Jack Frost stores. Stocks at Hoys @ Jack Frost are limited so let us know what you need the day before and we'll make sure we have it or we will get it in.
Snowshoes strap onto your boots to provide a wide surface area enabling a person to walk on soft snow without sinking. You are advised to wear waterproof footwear.
Snowshoes will enable you to explore off trail areas where beginner XC skiers may struggle. Your speed of travel however will be much slower.